Snow Dodger Participant Rules and Orientation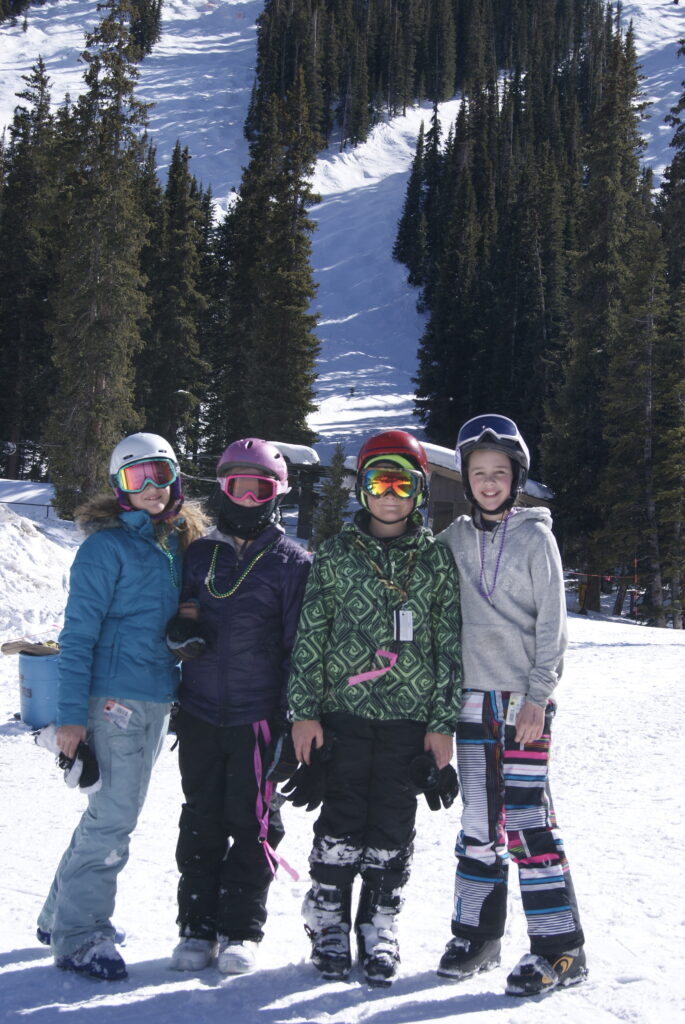 I. What is Snowdodgers?
The Snowdodgers Ski and Snowboard program has partnered with Loveland Ski Area to provide a great winter sports experience for Clear Creek County school kids since 1963.  The 2023 program is a 9-week package, each Friday from January 20th, 2023 through March 17th, 2023. The package includes transportation and lift ticket, and for elementary aged kids, 6 ski or snowboard lessons.  3rd  and 4th graders must take full-day lessons.  Grades 5th thru 12th may take lessons, but they are not required. There will not be half day lessons this season.
II. Who is eligible?
Students in grades 3rd  through 12th  who live in Clear Creek County and/or attend school in the Clear Creek School District are eligible to participate in Snowdodgers. 
III. How much does it cost?
All fees need to be paid on-line at Loveland's website after submitting your Snowdodgers' registration information.
Snowdodger Registration Fee (All Snowdodgers must pay)
$15.00 if received by December 15th, 2022. 
$25.00 December 16th, 2022 through January 4th, 2023
$50.00 after January 5th, 2023.  
* keep in mind registration will be closed midnight, January 10th, 2023…
Bus Transportation Fee PREPAY AND SAVE up to $85/child!!!!!  For Snowdodgers, prepay the transportation charge for 6 weeks, on-line with your Snowdodgers registration prior to January 10th 2023, and ride all 9 weeks at no additional charge.  Prepayment of transportation is optional, you can choose to pay weekly when boarding the Snowdodgers bus but PLEASE have the exact payment.
King Murphy/Bergen Park/Floyd Hill Bus 
Prepay $95/child and ride all 9 weeks; or

Pay $20 per child, each week. 
Idaho Springs/Dumont/Georgetown Bus
Prepay $65/child and ride all 9 weeks; or

$15 per child, each week.  
Lift and Lesson Fees
3rd and 4th Graders:

Season pass, 6 weeks-full day lessons and lunch
Lessons (Mandatory): $349

Season pass $134. (Daily lift tickets not available because of
                                            lesson requirement.)
-lessons will be limited this year 
5th  through 12th  Graders: No lessons required 
Lift ticket:

Season pass: $134 for age 14 and below; or $299 for age 15 and above. –OR– 
Daily lift ticket: To Be Announced at a later date
Lessons (Optional): $349 for full-day lessons (must purchase season pass if you are participating in lessons)
Complete online Snowdodger registration, including the waiver. You may scan and email completed forms to:  [email protected]. 
A SIGNED WAIVER AND RELEASE FORM MUST BE RECEIVED IN ORDER TO PARTICIPATE.  You will also need to print out the Loveland Season Pass and Ski School registration and submit that to Loveland at the Ski School desk on the main/2nd floor of the lodge at the Basin. If you are unable to register on-line, call us, so that we can help you.
THE SNOWDODGERS' OFFICERS, RESERVE THE RIGHT, AT THEIR SOLE DISCRETION, TO REJECT ANY REGISTRATION APPLICATION RECEIVED AFTER JANUARY 10TH 2023.  ANYONE REGISTERING AFTER JANUARY 10TH  MAY HAVE TO MISS THE FIRST WEEK OF THE SEASON BUT WILL BE REQUIRED TO PAY IN FULL.
Lift and lesson fees are in addition to the one-time Snowdodger    registration fee, and the bus transportation fee.
 Snowdodgers early season registration discounts apply.  
Loveland season passes may be picked up and used prior to the Snowdodgers season.  After registering and paying fees on-line, Loveland season passes can be picked up at the Loveland Ski School Kiosk at Loveland Basin main/2nd floor after 10:00am.  Be sure to take your signed season pass waiver. Loveland Passes that are not picked up prior to January 20th, 2023 will be processed and issued the first morning of Snowdodgers.   IF YOU WAIT TILL THE FIRST MORNING OF SNOWDODGERS, EXPECT TO MISS LESSONS OR SKIING, PART OR ALL OF THE FIRST MORNING, WHILE YOUR SEASON PASS IS PROCESSED.
How does the transportation work?
All students participating in lessons in the Snowdodgers program must ride a bus to and from the ski area.  Any student getting off the bus at a stop other than their loading point must have a signed Alternative Transportation Authorization signed by his or her parent/guardian, for that day.  Parent or guardians who want to pick up their child from the ski area must provide a signed Alternate Transportation Authorization to the sponsor responsible for that child's bus.  An Alternate Transportation Authorization form is available at www.snowdodgers.com.  Students of the Snow Dodgers program may not take guests, unless they are enrolled for the entire 9 week program.
NO GUESTS ARE ALLOWED TO RIDE THE BUS OR PARTICIPATE IN SNOWDODGERS UNLESS PROPERLY REGISTERED AS A SNOWDODGER.  
Round trip transportation is provided by bus from six designated pickup points to Loveland Ski Area.  The pickup points, departure and approximate return times are listed below. Please note that the morning times listed are DEPARTURE times, please arrive 10 minutes prior to that time because buses will leave promptly at times listed.
The buses park at Loveland Basin.  New skiers and boarders will ride with their classes and instructors to Loveland Valley on Loveland Ski Area shuttle busses.  
Upon arrival at the ski area, adult sponsors will authorize Snowdodgers to depart the bus to store items in the lodge, retrieve their skis or snowboards from the drop off area, and report to their lessons or begin skiing/boarding. Students shall assist with the loading and unloading of their ski equipment. They will be responsible for all their own gear.
Are the Buses and the Lodge Supervised?
Two adult sponsors are present on the bus, in addition to the driver.  An adult sponsor will be on duty in the lodge in the designated Snowdodgers area at all times. 
3rd and 4th Graders must attend supervised, full-day ski school, lunch provided by Loveland, for the first 6 weeks.

5th  Graders through 12th graders do not have to take lessons, but can if they wish, provided there is space available. Only full day lessons will be provided for the 2023 season, at a first come first serve basis.
All lessons must be purchased on-line as a block for the first 6 weeks.

Please contact Dan Huston at Loveland Ski School 303-571-5580 x 199 with questions regarding lessons and season passes.

The last three weeks are open skiing for all Snowdodgers, with special activities on Fun Day. Snowdodgers at all grade levels who do not show adequate competency and maturity will not be allowed to participate in the open ski days without being accompanied by a parent.
ANY STUDENT WHO DITCH THEIR LESSONS WILL BE REQUIRED TO SPEND THAT DAY IN THE LODGE AND MAY NOT BE ALLOWED TO PARTICIPATE THE NEXT WEEK.
What equipment must I bring?
Snowdodgers must come prepared for the weather conditions each week.  Daily weather forecasts and snow conditions are available at www.skiloveland.com.  Snowdodgers must supply their own equipment and clothing, including gloves, hat or helmet (RECOMMENDED), ski jacket, ski pants, goggles or sunglasses, sunscreen, snacks, beverages and lunch (except the lunch that is provided for Snowdodgers that are taking full day lessons).  Several local shops provide season rental rates for skis and boards. Exit 240 offers discounted rates for Snow Dodgers participants.
PLEASE LABEL ALL SKI/BOARD BAGS AND EQUIPMENT WITH THE STUDENTS NAME AND TELEPHONE NUMBER!! A lot of equipment looks the same! Labeling it with your child's name and telephone number will be much quicker than the time you will take searching for lost equipment.
SKIS/POLES AND SNOWBOARD ARE REQUIRED TO BE IN A SKI/BOARD BAG!  
This Ski/Board bag is separate from the "gear bag".  Only Skis, Board or poles are allowed in this bag.  Snowdodgers generally also bring a large "gear bag" in which they put their lunches, boots, gloves, snowpants, helmets, goggles/glasses, sunscreen, water bottle, extra clothing, etc.  Gear bags are left in the Snowdodgers staging area inside the Loveland Basin Lodge and are not always attended.  Don't forget to label everything.  There are lockers available, but at your expense.
Snow Dodgers are responsible for hauling their own equipment to and from the lodge, packing and unpacking their bags and making sure that they have everything at the end of the day.  Sponsors and other Snowdodgers will assist the 3rd and 4th graders.
How come the boards and skis don't get lost?
Each of the six bus stops has a different colored ribbon associated with it:
Georgetown Mountain Inn Yellow
Dumont Post Office  Orange
Idaho Springs rec center Red
Floyd Hill White
Bergen Park & Ride Blue
King-Murphy Pink
Snowdodgers must tie the appropriate colored ribbon on each ski/board BAG.  Ski/board bags are transported to Loveland by separate pickup truck, with some trucks transporting bags for more than one bus stop. 
The ski/board bags are unloaded at the beginning of the day near the Loveland Basin Lodge.  At the end of the day Snowdodgers are responsible for putting their skis and boards in their ski/board bags, and placing them in the appropriate loading zone based on color coded signs identifying the appropriate bus stop.  Ski/board bags are loaded on the trucks and dropped at the appropriate bus stop, at about the same time the busses arrive.
Is there a lost and found?
Snow Dodgers maintains an informal lost and found.  Discarded equipment is gathered up at the end of the day and taken back the next week.  Ski/board bags that are placed in the wrong pile and transported to the wrong location will be taken back to Loveland the next weekend.  
The best insurance against loss is to put your child's name and telephone number on all clothing and equipment.  You can then be contacted and make arrangements with the sponsor to retrieve an item if it is needed earlier than the next weekend.  If something is lost, check with the bus sponsors, Loveland Ski Area lost and found, or call the bus barn.   
What about injuries and illnesses?
Loveland has a world-class ski patrol group.  The facility is also relatively small (for a ski area) and they are familiar with the Snow Dodgers.  Our sponsors regularly check the first aid stations. In the event of injury or sickness, the Snow Dodgers sponsor will be notified and will check on the child.  First Aid or Snow Dodgers sponsors will call the emergency contacts listed on the registration form as quickly as possible and necessary action will be taken.  Please make sure that you and/or your emergency contact can be reached via cell/phone.
Additional Rules and Regulations
SNOWDODGERS MUST ALWAYS SKI OR RIDE WITH ANOTHER SNOWDODGER.  

Snowdodgers must always ski or ride in control and in bounds.

It is inconsiderate to make Snowdodgers, their parents and the volunteer sponsors wait for Snowdodgers or their parents that are late.  Morning and afternoon bus departure times listed at the bottom of this document are strictly followed and drivers will depart promptly.  This is very important due to traffic.  Departure time from Loveland is at 3:30 PM, all participants MUST be on the bus by 3:15. Snowdodgers who delay the departure of the bus for the return trip will not be allowed to attend the following week, and risk suspension for the remainder of the season.  Parents/guardians who are late for the afternoon pick up risk possible suspension for their child.

Snowdodgers purchasing daily lift tickets will need to notify their bus sponsor on the trip up to Loveland.

  Students shall assist with the loading and unloading of their ski/board equipment. Skis, snowboards and poles must be in ski/board bags for transportation to and from Loveland Ski Area. Be sure to put the Snowdodger's name and telephone number on the bags and equipment and attach the appropriate colored ribbon. 

  Snowdodgers must be at their designated lesson area by 9:00 am.  Snowdodgers must attend their lessons.  Any Snowdodger who is enrolled in lessons that comes to Loveland Ski Area but does not participate in their lesson will not be allowed to participate the following week.   A Snowdodger who gets separated from their lesson should go to the lodge and report to the sponsor.

Ski and snowboard apparel and equipment must meet the requirements specified by the ski instructors, and must be adequate for all weather conditions.  Failure to comply with this requirement may result in the Snowdodger's suspension.

Bullying will NOT be tolerated.  All Bullying behavior needs to be reported to the sponsor and an officer, so we can address the situation immediately.

All conduct shall be polite, respectful and in compliance with Clear Creek School District rules of conduct.  Snowdodgers shall obey all Loveland Ski Area rules, clean up after themselves when eating, and keep the buses, their gear and the lodge clean and neat.  Careless or inappropriate behavior (including bullying), foul language or sloppy habits shall be cause for suspension or expulsion.  

The parent or guardian must sign and return the appropriate registration and waiver and indemnification forms before a student may participate.  He/she must obtain and read all rules and regulations of the program (see above), and certify that the student is physically capable of participation in the Snowdodgers program without constant supervision and has no health problems that would endanger the child or others in the program.  The child participant must also sign these forms where indicated.

Registration forms must be completed in full, with the name and emergency contact number of a parent or guardian and an alternate responsible adult contact with the authority to authorize medical treatment.   A parent or guardian must have the ability to pick up their Snowdodger from Loveland Ski Area for medical reasons or for failure of child to comply with rules and regulations of the program.  

Anyone involved with alcoholic beverages, any form of tobacco (including vaping), or drugs during Snowdodgers activities will be expelled from the program.  The parents or guardians will be informed by a Snowdodgers sponsor of any misbehavior or infraction.

ANY SNOWDODGER THAT FAILS TO FOLLOW THE SNOWDODGER PROGRAM RULES, DIRECTIVES OF SPONSORS, BUS DRIVERS, OR LOVELAND SKI AREA PERSONNEL, OR WHO IS INVOLVED IN ILLEGAL CONDUCT WILL BE SUBJECT TO DISCIPLINARY ACTION IN THE SOLE DISCRETION OF THE SNOWSODGERS' OFFICERS, UP TO AND INCLUDING SUSPENSION AND EXPULSION FROM THE SNOWDODGERS PROGRAM,  FORFEITURE OF SNOWDODGERS AND LOVELAND FEES AND LIFT TICKET, AND THE REQUIREMENT THAT A PARENT COME TO LOVELAND SKI AREA IMMEDIATELY TO PICK UP THE OFFENDING STUDENT. 
QUESTIONS?  CALL Mark & Tiffany Dalton  at 720-507-4072 OR EMAIL AT [email protected]
Snowdodgers Bus Schedule 2023
Location

Bus Stop Departs

Morning (AM)

Bus Arrives

Afternoon (PM)

Bus Stop Ribbon

Color

Idaho Springs Rec Center Lot
7:35
4:10
Red
Dumont Post Office
7:40
4:00
Orange
Georgetown Mountain Inn
8:00
3:50
Yellow
King-Murphy
7:00
4:30
Pink
Bergen Park & Ride
7:10
4:20
Blue
Floyd Hill
7:20
4:15
White
Checklist
Beginning of season:
Complete On-line Registration

E-mail signed Snowdodgers Release and Waiver Form

Pick up Loveland Season Pass in advance, or plan on picking it up in the 1st morning of Snowdodgers (bring signed Loveland season pass waiver and Ski School waiver)

Rent or purchase equipment ahead of time (skis, poles, boots, or snowboard and boots).

Put name and telephone number on ski or snowboard bag and

ALL

equipment.

Gather clothing; hat, mittens or gloves, goggles or sunglasses, socks, pants, coat, etc. Check for fit, and

put name & telephone number on everything

! Extra gloves, socks, etc. are always encouraged for those cold and wet days!  Don't forget sunblock.
CUT OFF AND POST THIS ON YOUR BULLETIN BOARD OR REFRIGERATOR AS A REMINDER.
————————————————————————————–
Each week:
Bus leaves at_________, DON'T BE LATE!

Bus returns at ________

If paying transportation charge on weekly basis, exact change or check to

Snowdodgers Ski Club.

____________ Colored ribbon on ski/snowboard bag.  Skis/board/poles in bag.

Sack lunch or lunch money. 

Check equipment for condition/ completeness.

Make sure you have proper clothing and other protection such as sunscreen, chapstick, etc.

Make plans to have

fun

!!!
Passionate Individuals Helping You Push Boundaries
We are a group of parents dedicated to your continued learning and enjoyment
Overcome Your Fears and Master Your Skills
There's a lot of terrain to discover in new and exciting ways while you conquer them
Enjoy Friends and Family in Your Own Backyard
There's nothing better in life than fun with those you enjoy being with
Add Excitement to Your Weekend
Let's hit the slopes together!
We're all about kids having a great time and enjoying their best life along side us. You only need to sign up and enjoy the ride.